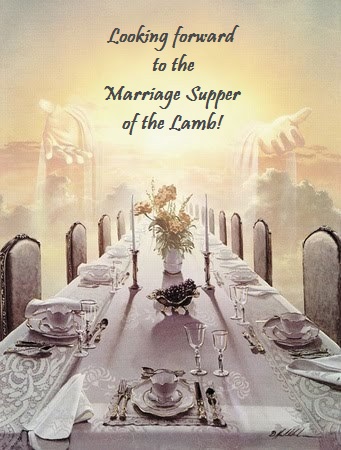 ~ ~ ~ Mixes and Dips ~ ~ ~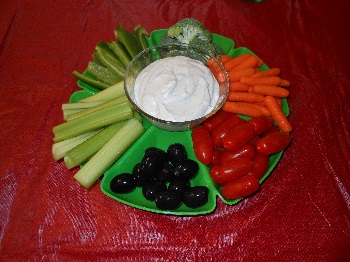 Ranch Mix
4 tsp. parsley flakes
1 tsp. garlic powder
1 tsp. lemon pepper
1/2 tsp. onion powder
1/2 tsp. dill weed
1/8 tsp. pepper
Mix together. To make dip mix in 1 cup sour cream and 1 cup mayo. Equivalent to 1oz dry ranch mix.
~ ~ ~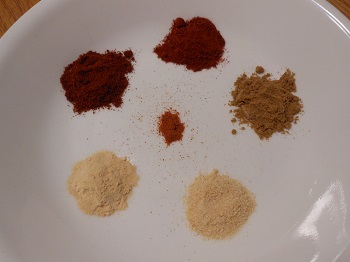 Taco Seasoning
1 tsp. chili powder
3/4 tsp. paprika
3/4 tsp. cumin
1/2 tsp onion powder
1/2 tsp garlic powder
Pinch cayenne pepper
Mix together and add to 1lb browned beef or turkey.
~ ~ ~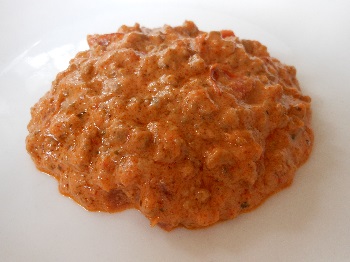 Taco Dip
1 lb. ground beef
1 recipe Taco Seasoning
8oz pkg. cream cheese
8oz block mild cheddar, shredded
16oz jar medium salsa
In a large skillet brown the ground beef. Turn heat to medium. Mix in taco seasoning. Add cream cheese and stir and cook until melted. Add shredded cheddar cheese and stir and cook until melted and smooth. Mix in salsa and heat through. Serve with tortilla or corn chips.
~ ~ ~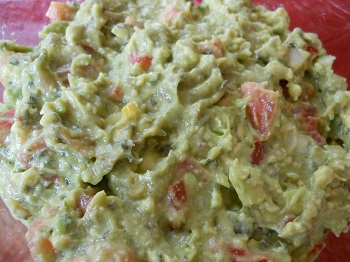 Guacamole
3 ripe avocados, peeled, pitted, and chopped
1 cup finely chopped tomatoes
1/4 c. finely chopped onion
1-2 tbs. finely minced jalapeno
2 tbs. lime juice
1 tbs. dried cilantro
Combine all ingredients in a medium bowl. Mash and mix with a fork until all ingredients are well incorporated.
~ ~ ~ Appetizers ~ ~ ~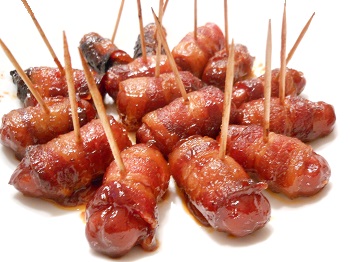 Bacon Smokies
16oz bacon
14oz package cocktail wieners
1/4 c. brown sugar
1 c. BBQ sauce
Preheat oven to 325F. Cut 14 slices of bacon into thirds. Use remaining bacon for another use. Wrap each wiener with a piece of bacon. Secure with a toothpick and arrange in a 9x13-inch baking dish. Sprinkle the brown sugar evenly over the wrapped wieners. Bake at 325F for 45-50 minutes, increase heat to 400F and bake 10-15 minutes longer, or until bacon is done and wieners are cooked through. Evenly spread BBQ sauce in a 5-qt slow cooker and turn onto low. Remove the smokies from the baking dish to the slow cooker to keep warm.
~ ~ ~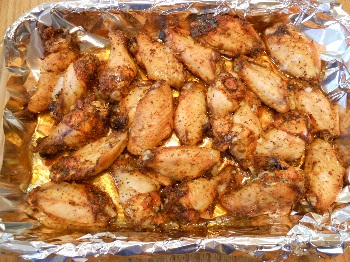 Hot Wings
2 tsp. dried oregano
2 tsp. dried thyme
2 tsp. paprika
1 tsp. curry powder (Note - I use "Frontier" brand curry)
3/4 to 1 tsp. cayenne pepper
3 lbs. chicken wings, cut into drumettes
Preheat oven to 350F. Foil 10x15-inch pan. In gallon-sized ziplock bag, combine spices. Add wingettes. Seal bag and turn to coat wingettes with spice mixture. Arrange wingettes in prepared pan. Baked 350F for 1 hour.
~ ~ ~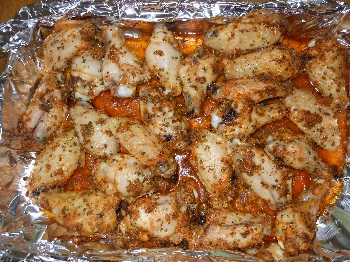 Parmesan Oregano Wings
3/4 c. grated Parmesan cheese
1 1/2 tbs. dried parsley
3/4 tbs. dried oregano
1 1/2 tsp. paprika
1/3 tsp. pepper
3 lbs. chicken wings, cut into drumettes
1/4 c. melted butter
Preheat oven to 350F. Foil 10x15-inch pan. In gallon-sized ziplock bag, combine spices. Dip wingettes in butter and place in ziplock bag. Seal bag and turn to coat wingettes with spice mixture. Arrange wingettes in prepared pan. Baked 350F for 1 hour.
~ ~ ~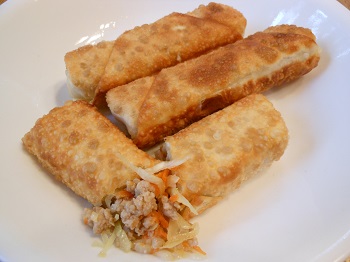 Egg Rolls
1 lb. ground pork
2 large shallots (3oz), minced
1 tsp. minced garlic
2 c. shredded Napa cabbage (3oz)
3/4 c. finely shredded carrots (3oz)
1/2 tsp. salt
2 tbs. sesame oil
1 1/2 tbs. water
1 tbs. cornstarch
14 egg roll wrappers (16oz pkg.)
Peanut Oil
In a large skillet, brown ground pork with minced shallots and garlic. Drain grease. Add cabbage, carrots, sesame oil, and salt. Set aside. In a small bowl, mix together cornstarch and water. Set aside. On wax paper, lay out egg roll wrappers. Heat enough peanut oil to cover the bottom of an electric skillet to 375F. Meanwhile, place about a 1/4 cup of the meat mixture on each egg roll. Fold up the corner closet to you, and then fold over the opposite corners on the eggroll and roll up almost all the way. Brush a little of the cornstarch mixture on the end to seal up the egg role as you finish rolling. Fry the egg rolls in batches about 30-45 seconds on each of four sides, until golden brown.
~ ~ ~
Crab Rangoons
24 wonton wrappers
2 tbs. peanut oil
8oz cream cheese, softened
1/4 c. mayonnaise
1/4 tsp lemon juice
6oz can crab meat, drained
1/2 c. sliced green onions
Hot sauce or cayenne pepper, optional
Preheat oven to 350F. Brush both sides of wonton wrappers with peanut oil. Place wrappers in 24-cup mini muffin tin. Set aside. In a medium bowl, mix cream cheese, mayo, and lemon juice, until smooth. Add crab meat and green onions and mix to combine. Divide evenly among prepared wonton wrappers, filling each with about a heaping tablespoon of the crab mixture. Bake 350F 13-18 minutes, or until edges of wontons become golden brown. Let rangoons set about 5 minutes before serving. Serve with hot sauce or cayenne pepper, if desired.
~ ~ ~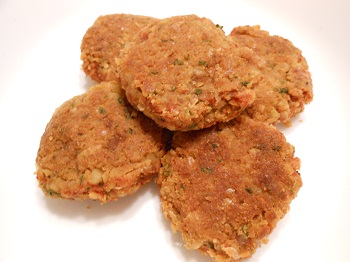 Falafel
2 cans garbanzo beans, rinsed and drained
1/2 cup finely chopped onion
4 tsp. dried parsley
4 tsp. minced garlic
1 1/2 tbs. flour
1 1/2 tsp. cumin
3/4 tsp. ground coriander
3/4 tsp. tumeric
1/2 tsp. salt
1/4 tsp. pepper
Pinch of cayenne pepper
Pinch of ground cardamom
2tsp. baking soda
1 tbs water
Peanut oil for frying
Place the garbanzo beans in a food processor and process to make a coarse meal (I slightly mash them with a fork and process them in my Magic Bullet). Mix in spices, baking soda and water. Cover and refrigerate mixture for at least 2 hours. Make walnut-sized balls. Flatten slightly. Heat about a 1/2-inch of oil in electric skillet to 375F. Fry falafel for about 2 to 2 1/2 minutes on each side, until golden brown.
~ ~ ~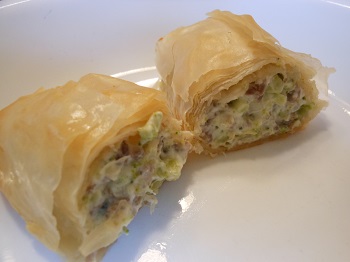 Phyllo Roll-Ups
20oz pkg. brats with casings removed
1 medium sweet onion, chopped
12oz cooked broccoli, chopped
2 - 8oz pkgs. cream cheese, softened
16oz pkg. phyllo dough, thawed
2/3 c. butter, melted
In a large skillet, brown brat meat with onion. Drain grease. Add cooked broccoli and cream cheese and mix until well incorporated. Chill mixture at least one hour.
Preheat oven to 375F. Roll out phyllo dough. Place one sheet of dough by itself and brush generously with butter. Layer with another sheet of phyllo dough and brush with butter. Layer another sheet of dough on the two buttered sheets. Place one-fifth of the brat mixture along one short end of the buttered dough sheets and roll-up. Brush butter at the end to seal the roll-up. Generously butter the outside of the roll-up and set aside. Repeat process with phyllo dough four more times to make a total of five roll-ups. If you have more than 15 sheets of phyllo dough make four layers instead of three for the last few roll-ups.
Place the roll-ups on a large baking sheet. Slice each roll-up into eight pieces. Do not spread the pieces apart. Bake 375F for 25-30 minutes, or until golden brown. Note: The roll-ups can be made ahead and refrigerated before baking.
~ ~ ~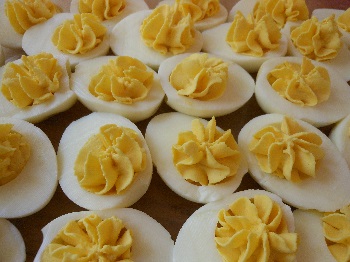 Deviled Eggs
12 hard boiled or roasted* eggs
1/2 c. mayo
1 tbs. mustard
Paprika, optional
Remove shells from eggs under ice-cold water. Pat eggs dry. Slice eggs in half lengthwise. Remove yolks and place in a medium bowl and mash with a fork. Arrange egg white shells in a 9x13-inch container. Add mayo and mustard to egg yolks. Beat together until smooth. Spoon or pipe egg yolk mixture into egg white shells. Sprinkle with paprika before serving, if desired.
* To roast eggs, arrange raw eggs in a silicone muffin pan. Place pan in a cold oven and close. Turn oven on to 350F and roast for 30-32 minutes. Note: It takes some trial and error to determine the time it takes your oven to make perfect eggs. I also recommend only placing eggs in the outer cups of the pan, as the middle eggs may not get done before the outer eggs. When eggs are done remove them from the pan immediately to an ice bath and peel as soon as they are cool to the touch.
~ ~ ~ Snacks ~ ~ ~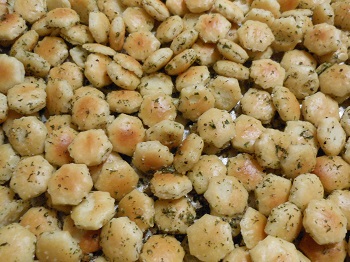 Ranch Oyster Crackers
3/4 c. light olive oil
1 recipe dry Ranch Mix
1/2 tsp. dried dill weed
1/4 tsp. lemon pepper
1/4 tsp. garlic powder
12oz oyster crackers
Preheat over to 275F. In a large mixing bowl mix together oil and seasoning. Stir in crackers and mix until well coated. Place crackers on large baking sheet. Bake 275F for 20 minutes, stirring once at 10 minutes.
~ ~ ~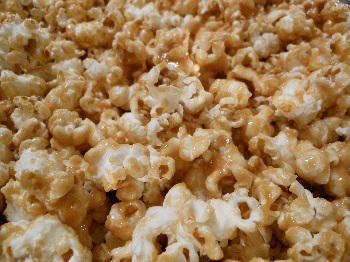 Peanut Butter Popcorn
4 quarts of popcorn
(I use 2/3 c. popcorn + 2 tbs. oil in my Stir Crazy popper)
1/2 c. peanut butter
1/2 c. honey
1/4 c. sugar
1/4 c. chopped peanuts
Place popcorn in a large bowl and set aside. In a small saucepan, mix peanut butter, honey, and sugar over medium heat. Stir and cook until it becomes a thin sauce. Mix in chopped peanuts. Pour over popcorn and stir to coat. Allow to cool slightly before serving.
~ ~ ~ Beverages ~ ~ ~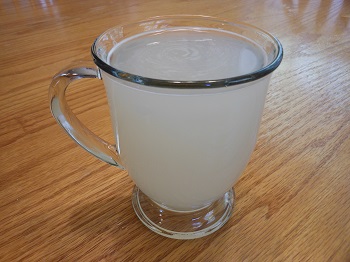 Lemonade
For a crowd:
1 c. lemon juice
1 c. sugar
7 c. cold water
Mix all ingredients in a 2-quart container. Add ice, if desired.
For one:
2 tbs. lemon juice
2 tbs. sugar
12-14oz cold water
Mix all ingredients in a large glass. Add ice, if desired.
~ ~ ~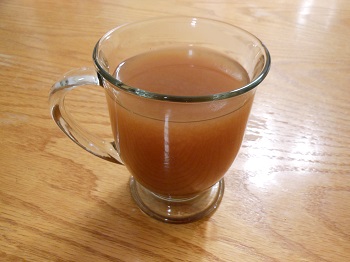 Fruit Cider
24oz apple juice
8oz cranberry juice
8oz orange juice
6oz pineapple juice
2oz water
2 cinnamon sticks
8 whole cloves
1/2 tsp. nutmeg
1/2 tsp. allspice
Mix all ingredients together in a large pot. Bring to a boil and simmer for about 20 minutes before serving.
~ ~ ~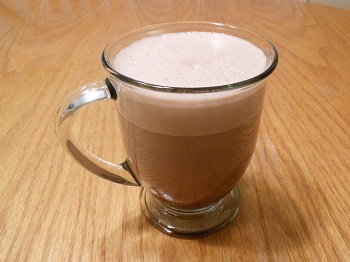 Hot Chocolate for One
12oz milk
1 1/2 tbs. cocoa powder
2 tbs. sugar
Heat milk to desired temperature. Add cocoa powder and sugar. Mix well. Note - I use my Magic Bullet to heat the milk in the microwave and blend the ingredients.